Grout and Tile Cleaning, Toowoomba & Darling Downs Region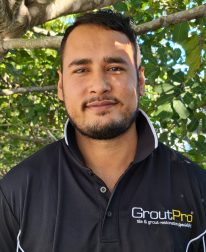 Ronnie Joon
GroutPro Toowoomba
Tile and Grout Cleaning Toowoomba & Darling Downs
For a quality tile and grout restoration or just simple grout and tile cleaning in Toowoomba or Darling Downs, give Ronnie at your local GroutPro team a call. Covering all areas across the Toowoomba region from Crows Nest & Highfields, to Top Camp & Westbrook, and Gatton & Helidon, to Dalby & Oaky, they are the best in the tile and grout restoration business.  With Epoxy Grout being a speciality, we can solve water leaking problems and provide an easy to clean grout surface that won't stain.
The Tile and Grout cleaning team in Toowoomba are specialists in:
In addition to consistency, the GroutPro team are trained and equipped with all the latest technology, tools, and training to ensure the job completed is done with top tier professionalism and quality. As a result of this, one of our favourite sayings is "We get the job done right the first time". The grout and tile Toowoomba team is led by Ronnie Joon and he loves to make improvements in homes, business buildings/ offices and anywhere that has tiled areas. Above all, Ronnie specialises in ceramic, porcelain, terracotta, granite, or marble. In conclusion, if you aren't too sure of your tiled area, just let Ronnie know and he will help you out.
Reliable, quick working and efficient Grouting professional
Living in a country town, it can be difficult to find a reliable, quick working and efficient Grouting professional. Our grout and tile Cleaning Toowoomba team offer you a fast turnaround from quote to job completed. In all, this means you won't be out of pocket wondering about the time until your job is done. In other words, we keep this standard consistent all-around Australia to ensure you have the same professional treatment from anyone in Australia from GroutPro.
If you're looking for a tile cleaning Toowoomba specialist, please don't hesitate to fill out the Quick Quote form to the right and a GroutPro Tile and Grout Specialist will get back to you within 24hrs. We offer a no-obligation FREE quote for all jobs.
Use our quick quote form or Phone: 1800 822 459.