Tile and Grout Cleaning New England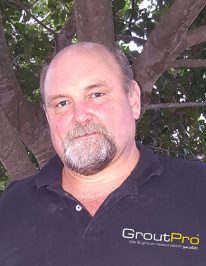 Steve Gilby
GroutPro New England Coffs Coast

GroutPro offers tile and grout cleaning, sealing and repair services in the NSW New England and Coffs Harbour region. With years of experience in the business, our tile and grout cleaning teams will ensure all your tiled surfaces from outdoor entertaining, to dining, kitchen and bathrooms are dirt free, sealed and looking slick and clean. Whether you require tile and grout cleaning, sealing or re-grouting for your floors, walls, kitchen worktops, bathroom vanity, shower or any other wet areas, our team will be happy to get you a free quotation and get the job done. Covering the area from Tamworth, through Armidale, Dorrigo, Bellingen to Coffs Harbour, Steve will be happy to help solve your tile or stone problems.
Our Services Include:
Cleaning and restoring marked and moulding tiles
Replacement of cracked, damaged or broken tiles
Full Kitchen or Bathroom Makeover including full tile and grout cleaning
Full grout replacement including colour-sealing and repairing
Treating slippery tiles with an anti-slip surface, outdoor tiles in particular
Epoxy Grouting for larger tiled surface areas.
Exterior grout cleaning including removing moss and mould
Terracotta & Slate cleaning and sealing
For tile and grout cleaning or re-grouting services in New England and Coffs Coast, get in touch with Steve Gilby who covers the New England and Coffs Harbour area.