Tile and Grout Cleaning North Coast NSW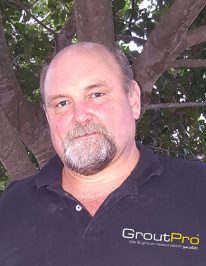 Steve Gilby
GroutPro New England Coffs Coast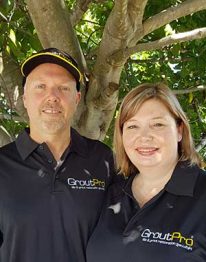 Mark & Anissa Bakker
GroutProPort Macquarie
If you're in need of quality tile and grout cleaning in the NSW North Coast region, the GroutPro team of specialists can help! Stop feeling embarrassed about the state of your bathroom tiles and contact our Port Macquarie team, Mark and Anissa for a free quote to get the job done.
We're very happy to welcome this powerhouse team to the GroutPro family.  Our qualified GroutPro specialists provide quality services for re-grouting around kitchen sinks, showers or any other wet areas. We also offer complete bathroom and kitchen makeovers for all your grout and tile needs. Don't forget to check out our 'before and after' gallery to see the results for yourself.

Grout Cleaning Experts in Port Macquarie
Do you miss the look of your tiles when you first had them installed? The grout cleaning team in Port Macquarie NSW can help you get this back!  A lot of people think that they need to completely replace their tiles when they start to look dirty or tired, but most of the time this isn't true. With a bit of TLC from our tile and grout specialists, they can look next to new again with the right people with the right  knowhow and equipment.
GroutPro can also assist with tile and stone sealing. Our Specialists are fully trained in identification of all tiles and knowing what sealer is required for what tile and stone type. Once installed, our GroutPro clear penetrating sealer can prolong the life of your grout and provide ongoing stain resistance against most contaminants for up to 10 years.  Our commercial quality topical sealer, which is so hard wearing it's used in car showrooms, can be used to protect delicate stone surfaces.  If you're not sure what sealer you need, give us a call today for our FREE recommendations.
Our Services Include:
Cleaning and restoring marked and moulding tiles
Replacement of cracked, damaged or broken tiles
Full Kitchen or Bathroom Makeover including full tile and grout cleaning
Full grout replacement including colour-sealing and repairing
Treating slippery tiles with an anti-slip surface, outdoor tiles in particular
Epoxy Grouting for larger tiled surface areas.
Exterior grout cleaning including removing moss and mould
Terracotta & Slate cleaning and sealing
Mark or one of his team can help you with advice on the best suited treatments your grout and tiles. Get in touch on 0466 909 910 or via our Obligation Free Quotation. You can expect free, no obligation quotes for their services, as well as a quick and efficient clean up when the work is all done. It's that easy!